Flower Specialist for Weddings, Celebrations and Funerals based in Carmarthenshire
Creative floral designs available in fresh or silk for purchase or for hire, we are THE wedding flower specialist in Carmarthenshire West Wales and we are the last word in wedding arch hire or purchase.

Creative Florist in Carmarthen Indoor Market and now Cwmbran Village Market
We are now based both in the Carmarthen Indoor Market and the Cwmbran Village Market and our friendly and reliable service includes same-day flower delivery in Carmarthenshire areas as well as wedding ornaments and wedding arches for hire Nationwide.
If you require flowers for Funeral or Sympathy we will ensure the flower arrangements created for you will harmonise with the feelings and the reasons they are intended for.
Wedding flower specialist based in Wales
Our wedding flower business is a well-established family business serving the local residential and business community in Carmarthenshire and beyond.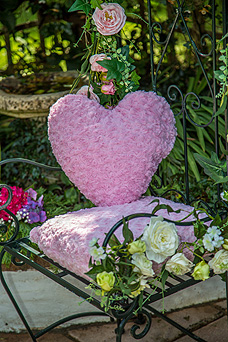 Manor House Flowers create artistic arrangements using the finest fresh seasonal flowers and foliage available and we choose our flowers to capture the right spirit of the seasons and to express the right sentiment for each occasion.

Our staff strive to create beautifully co-ordinated bespoke wedding bouquets and centre pieces, pedestals, and individually designed wedding arches which have a real point of difference. Our selection of bespoke wrought iron wedding arches make a wonderful statement at any wedding as they can be decorated any way the client wishes. read more

We aim to perfect the flowers that you choose, to reflect your perfect day, by providing you with a unique and exceptional service.

Manor House Flowers is a member of the Carmarthen Floral Arts Society.
We offer flowers and ornament hire for same-sex weddings and for Asian weddings. Just contact us today for details.